Biography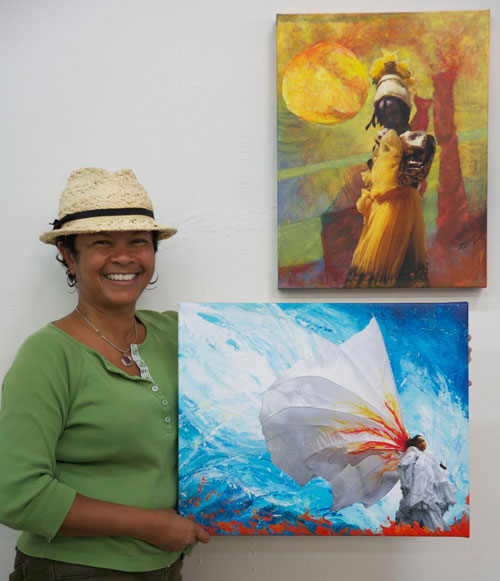 Wolf Gomez is an innovative mixed–media artist and explorer who is passionate about transforming environments and shifting attitudes and perceptions with art. She is the founder of ImageMind Art, an organization dedicated to igniting cultural curiosity. Wolf is well known for being able to demystify the artistic process and help people creatively appreciate and explore ways art symbolically reflects their life's experiences.
Wolf's fascination with art began with crayons and every blank wall she encountered in her path from the age of 6 yrs old. Initially a self-taught watercolor artist in her teen years, she later migrated to painting professionally with oils on canvas in the "Disappearing Island" series. A trailblazer, early on Wolf left her budding art career in Trinidad with her sights set on California to further deepen her creative exploration. The move to an entirely new country gave the artist a first hand understanding about being a cultural bridge and highlighted the challenges inherent in transitions. It also sparked a passion for creatively exploring internal states of being while embracing new environments.
Wolf has been professionally active in the SF Bay Area Arts industry for over 25 years, resulting in an expansive body of work that includes painting, mixed media collage, photography and writing. Her education includes a BA in Creative Arts Therapy and a BFA major painting from California College of the Arts. Wolf's dedication resulted in an MA in Arts Education & Digital Technologies from San Francisco State University.
Gifted at inspiring others to dedicate themselves to their creative goals, Wolf has been an artist educator for underserved youth in the Mission Voices Summer Arts Program and has served on the Board of Directors for the SF Southern Exposure Gallery. Highlighted exhibitions have been in San Francisco, Hawaii, Los Angeles and Trinidad & Tobago. In the series "A Living Ritual" wolf explores the concept of transition through images of festivals and ingeniously bridges the worlds of culture, photography and painting.
Wolf's personal experiences have given her a profound understanding of the challenges that arise during life's transitions. As a result, her collectors say that Wolf's unique ability to help them uncover their imagination to boldly express and surround themselves with inspiring and meaningful artwork is unmatched. A champion of healthy creative change, her artwork sparks the courage to look past the familiar and step into expansive visions of new possibilities.